I'm on a bit of a three-step kick this week.
Anthropocentrism
is the point-of-view in which people are made central. For example, a zoo is built around people, not animals - anthropocentric - whereas a game preserve is built around the animals, and people who want to see them are an afterthought.
Let's confront
the facts of our world
- people are not central to our planet, even less our universe. Quite the opposite. The planet is happy to buck us off like a bad cold.
But there's another side that calls for
a balanced perspective
on humanity's place in the universe. We are part of the planet, we will work to survive here, and we are unique organisms. This is what Thomas Berry might call the Ecozoic perspective - humans thinking of themselves in an intentional balance as part of a larger planet.
This is key to our spiritual life, and not just for our survival. Our connection with our planet is perhaps the most powerful relationship of love we can form. Any imagination of relationships of love must take into account the natural context. C

an we

talk about mideast peace without talking about natural res

ources? Can we
discuss our imperative to feed the hungry without talking about the root causes of hunger?
I'm a visual learner, so here's
3 Images
to help shape your perspective.
1) Abuse:
This is the Yangtze River in China, a major global artery of fresh water. It turned red for as-yet-unknown reasons. Maybe a paper dye? Maybe a chemical runoff? What we do know is that it wasn't hard for me to find a picture for this category. Humans have been cavalier with our planet, which has bent to our wishes. Mountaintop blasting,
ocean dead zones
, ozone holes, and apocalyptic deforestation worldwide have led us to a point of no return. We got the planet into a mess, and if we are going to survive, we must appreciate the fact that we are part of a larger context of living things.
2) Recovery:
I say that we might not survive, that the planet will kick us like a fever, and this is what I mean. This is Detroit, photo by Andrew Moore. You've seen
Chernobyl
images, surely. The planet doesn't need us. If we die out the planet will continue spinning, weather will continue to form. Living things might still thrive, like they did for the millions of years before we started walking upright and collecting into towns. The planet will recover from us, that is a fact. By forming a balance with our natural context we aren't somehow saving the planet, we are saving ourselves by connecting with the planet.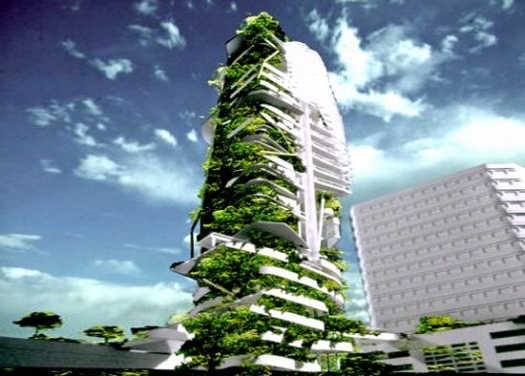 3) Shape Up:
I am proud that
New Orleans is at the cutting edge of urban farming
, and that vertical farms - buildings that grow large amounts of food in urban environments through hydroponics - are currently being built in
Chicago
and
New York.
The future of humanity rests in our ability to recognize that we are part of a planet much bigger than us. That's easy to forget in a city, where everything around you is man-made, and you might not see naturally occurring plants for months. Making the city more green exposes more people to our balance with the planet, and a city willing to devote itself to that cause is a city that understands. New Orleans is that city because we are falling of the edge. We know that our planet will spin us off if we don't embrace it with both arms.