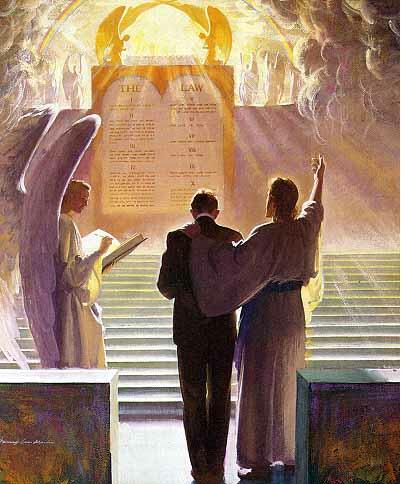 Jesus, that's a lot of stairs.
"The only thing keeping religious people from rape and murder is a magical unicorn. That's what scares atheists."
That's what a friend and I were discussing a few nights ago. And he has a point:
Is belief in God the only thing keeping Christians from doing immoral things? How central is divine judgment and afterlife to our morality? If we aren't going to church, who will tell us right and wrong?
Assuming our generation is post-religious, or is relating to religious organizations in a wholly new way, let's ask:
Why haven't we murdered our neighbors?
Because, whether you are a believer or non-believer, a Christian or a post-Christian, a boomer or a millennial, you rely on altruism, compassion, and networks of relationships. Again, this is the basic characteristic and goal of the human species.
Religion is only one source of morality. Our families and community of friends are key sources. But so is mass media, which, while it can be brilliant, is usually commercially-motivated and so rather suspect as a virtuous voice in the moral wilderness.
But
the ultimate source of morality
can be found by analyzing our lives in terms of our goals.
We all have goals. Maybe our goal is a number with a plus sign for the month. Maybe our goal has a cute name and a birthday, or a piece of fancy paper. Maybe your goal is just to make it to the Fall without melting.
Whatever your goal is, you know what it's like to sacrifice for it. Didn't it feel good to skip the movie so you could reach your money-saving goal? Let's call that Virtue - trading short term goals for long term goals.
And you know
the biggest goal
- Sharing our life with others in networks of compassion and love.
Like when you take a less sexyfun job so that you can provide for your children. That's trading career goals for the long-term goals of sharing a healthy life with your next generation.
Or when you donate some money or time instead of splurging on high-end cheese. That's trading short-term cheese-based goals with the long term goals of building communities of compassion.
So Virtue doesn't require a judgmental seated deity figure. If you agree with me that Compassion is the point and end of life, we learn to make decisions every day with that goal in mind.